How is the Moira Yarn Made?
The Moira yarn is by far our best seller. It comes to no surprise since this yarn is truly the quintessential of all yarns. The following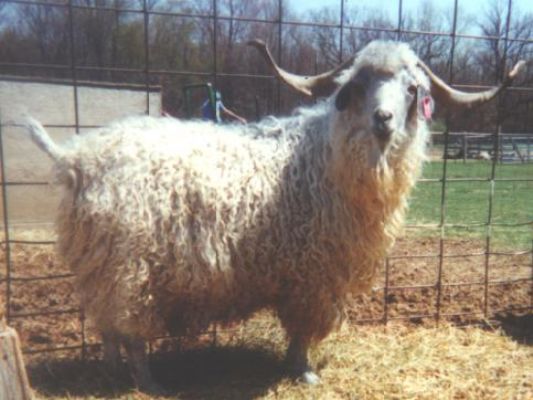 will give you an idea of the process involved. This yarn is truly made from scratch. We travel to the best Angora goat farms in the Midwest and hand select each fleece. To qualify, a fleece must be clean, open, and the curls must be a certain length and a certain type of texture and curl.
We then bring these fleeces home and wash them individually (1 lb lot) using very gentle detergents. This is probably the most labor intensive part. Mohair-goat_smallEach fleece may require up to 8 washings before becoming the crispy white that fits our standard.

Then, we dye 1lb lots and hand sort the dyed curls before spinning these into gorgeous yarns.Moira-Tropical-Macao_small Unlike
other hand-dyed yarns, there will be no stripping in the finished items because of the random order in which we pick each individual curl and add it to the yarn as it is spun. The one pound lot dye lot means that there will be variations among each pound, a testimony to the craftsmanship of the yarn. As you can imagine, this process takes time to accomplish but is well worth it.
Moira long vest
Check out the "Chere" A-line long vest made in Natural Beige Moira yarn